Get Top Search Engine Rankings
For Your Website
SEO Portland
and search engine optimization services Portland Oregon Professional SEO service company and affordable SEO consultant Portland search engine optimization Portland seo
Is Your Website Getting All The Business You Want?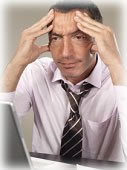 If the answer is "NO", the problem could be due to low search engine ranking.
Search engines, like Google, Yahoo!, and Bing are the most popular method for Internet users to find your site. Websites with top search engine ranking are the ones getting the web traffic, and the customers.
If your site has a poor search engine ranking, you aren't getting enough people to come to your site. The result... not enough website business.
Google Loves Fast Websites - Here's An Example
Beautiful Website - Fast Page Load Speed - Immediate Local Ranking
This is one of those "stop the presses!" situations. We developed a brand new website for an internationally recognized expert in programming Microsoft Access application software. We worked some fairly massive hours and in a few weeks we had a brand new enterprise website up and running. After two days it popped up into the first page for local listings for the Los Angeles CA area. The owner started receiving calls almost immediately. The home page, displaying 20 images, loads in just 1.65 seconds for desktop viewing. This is incredibly fast for a large web page.
Database Software Company Moves Up Rankings Digital Marketing Increases Traffic and Visitors
Congratulations to our client, MS Access Solutions, a national software consultant in Los Angeles. This company has an excellent reputation for developing complex database programs for businesses, government agencies, and the military. We developed a number of online properties to boost this site very rapidly. Here are just some of the specific actions we performed to place this website at the very top of Google rankings.
Enterprise website
Schema Markup for multi-location website
Google My Business (GMB) accounts
Google Maps for major U.S. cities
Facebook account
Twitter account
Citations
Portland SEO services and Portland search engine optimization and seo Portland plus search engine marketing Portland
What Is Search Engine Optimization?
Search engine optimization designs and develops your website so search engines, (like Google, Yahoo!, and MSN ) can include it in their list of websites. Now people looking for your services or products can locate your web site using the search engines. Search engine optimization, also called website marketing, builds the right site structure to get your site a good search engine ranking with the search engines.
When the search engines can find your site easily, your site is considered "search engine friendly." Your site will receive a higher search engine ranking and greater opportunities for visitor traffic to your website.

More information about Search Engine Optimization Services
Portland website optimization and SEO services plus search engine optimization services Portland Oregon professional SEO service company Portland search engine marketing search engine optimizing service Portland Oregon web site marketing search engine marketing Portland professional seo service company seo Portland search engine optimization
What Does My Site Need So Search Engines Find It?
When search engines locate a web site easily, the site is called "search engine friendly." A search engine friendly web site contains both quality and relevant content - also called "search engine optimized" content. A well optimized website is easy for your site visitors to navigate and contains information about a central topic.
Most importantly, a search engine friendly web site is easy for search engines to review, or index, so it receives an optimum ranking. Using relevant and unique text content is the best way to develop quality web content. Providing a highly informative site improves search engine ranking, leading to more website traffic.
Find out how our SEO Service Company provides Search Engine Optimization Services to improve your search engine ranking.
SEO Portland search engine optimization services Portland Oregon
SEO service company providing quality search engine optimizing Portland and search engine optimization service Portland Oregon and website marketing Oregon and search engine marketing Portland.
YouTube Video SEO
Here's just one example of a client's video that is ranking #1 on YouTube. We can do the same for your videos!